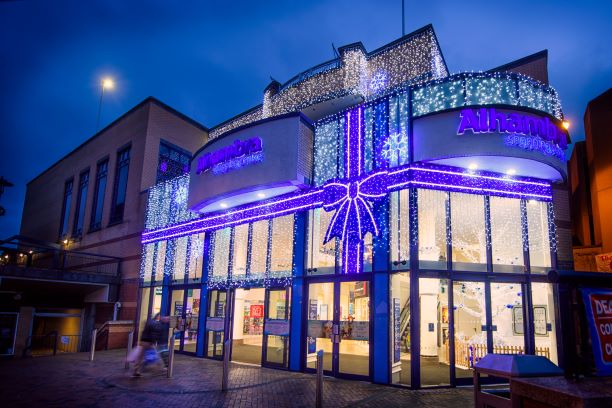 We have been the creative display partner for the Alhambra Shopping Centre, Barnsley for the past four years. This particular installation usually takes around 11 hours with 17 dedicated people in purple.
Our installation at the Alhambra shopping centre makes you go WOW. The dramatic entrance creates a statement and generates fantastic street appeal. The exterior of the main entrance features a giant blue bow and ribbon spanning over 30 metres, which is accentuated by a backdrop of white curtain lights for added impact.
The shopping centre's interior includes hanging and standing 2D and 3D festive motifs, all accessorised with a mixture of royal blue, white and silver Christmas decorations to ensure a cohesive look and a magical winter wonderland theme. A giant 5-metre bauble is used in the main atrium to create a unique Santa's grotto, perfect for those traditional family photos and Instagram worthy selfies. Smaller features include over 400 metres of white icicle lights decorated with blue, white, and silver baubles, which are used to decorate the voids and ceiling grids.
For the first time in 2020, The Children's Hospital Charity displayed snowflakes on Barnsley's Alhambra Shopping Centre to support Sheffield Children's hospital charity where it is needed most, including by redeveloping the hospital's Cancer and Leukaemia ward.
For 2021 we have created a new scene that is out of this world. So, keep an eye out over the Christmas period for some fabulous photos, or better yet, why not visit the centre in person. If you love this festive theme, get in touch with our design team and start your 2021 Christmas design with Fizzco Projects.