Fizzco have created a vairety of 30 Christmas decorating themes to suit you and your individual style this Christmas.

Traditional Christmas decor consists of red and gold baubles. To complement the traditional style, add a combination of natural elements such as a real Christmas tree, wreaths, and garlands. Adding candles will make your space feel warm, inviting, and cosy this Christmas. The timeless classic scheme can be elevated further by experimenting with a variety of textures and patterns, such as textured ribbons.
For the wow factor, choose an all-silver theme for your Christmas decor. A silver-inspired Christmas theme will transform any home into a winter wonderland.  This theme combines silver, white and neutral shades of Christmas decorations. Using Christmas decorations with different finishes such as matte, satin, and glitter is a great way to elevate this colour palette. Muted silver and white baubles can be incorporated into other Christmas decorating accessories such as ornaments, ribbons and wrapping paper, for a stylish and modern feel.
Do you have a bit of an eclectic style? Or love the retro aesthetic? Well, a vintage Christmas theme with a palette of gold, white and brown Christmas decorations will suit you perfectly.  Using the Antique chic theme will create a classical ambience. Incorporating floristry and bespoke decorations is a fabulous way of elevating this colour scheme. This unique style is a mixture of Victorian chic with modern embellishments, this style is sure to give you years and years of pleasure.
The Berry Christmas theme incorporates a mixture of blue, purple, cerise pink and turquoise Christmas decorations; this theme is about embracing all things bright, colourful, and glittery. Opt for cool colours, and rich tones to decorate your space. Add glittery ornaments and tinsel for a fun and fantastic-looking room. The palette is not your typical Christmas theme, but the mixture of eclectic colours is a funky and unique style, which is sure to get a positive reaction from your friends and family this Christmas.
Take some inspiration from the Three Wise Men and give the gift of gold this Christmas. You could say this is the ultimate luxurious Christmas style, a mixture of old meets new. Choose different textures and shades of this delightful warm colour. Gold ornaments can provide a classy look to your home that naturally creates a feeling of comfort. The versatility of this colour means it is perfect for all your Christmas needs and goes with almost anything.
Drama is the key element when choosing a metallic look. The Precious Metals theme encompasses metallic colours like silver, gold, and copper Christmas decorations. The use of these colours throughout your home will inject a little festive elegance. The colour combination is sure to get people talking. The metallic tones provide a stylish contrast to any green foliage, including the Christmas tree, wreaths, or garlands. You could go all out and use a white Christmas tree, which will bring the colours to life and make your Christmas decorations pop. 
Give your home some serious North Pole vibes by decorating with colours such as blue, white and silver Christmas decorations. Combining these colours creates a wintery wonderland and truly brings the feeling of Christmas to life. The Jack Frost Christmas theme is very stylish and is easy to complement with the use of subtle accessories, add some flocked or fake snow for an even greater snowy effect, which is sure to make you fall in love with all the magical aesthetics this Christmas style brings.
8. Pastel
One of the biggest trends for this Christmas is the incorporation of pastels. Think pale pink, mint green, icy silver, subtle blues and pops of white. The pastel colours create a soft and subtle aesthetic. Incorporating pastel colours makes a fun and whimsical décor. This Christmas style is very much a playful, elegant, and sophisticated look, especially when you combine it with vintage style. If you want this colour palette to stand out, put the decorations on a white Christmas tree, wreath or garland.
9. Rainbow
Cannot decide which colour you love most? Turn Christmas on its head with a rainbow or circus-inspired Christmas. No colours are off-limits, and no textures and finishes are off-limits either. With the mixture of blue, green, pink, yellow, red and purple baubles, your Christmas decor will be the talk of the town and will certainly inject some fun and fabulousness into Christmas. Create a rainbow wreath for the front door or add multi-coloured decorations around the house so the fun can continue throughout your home.
Creating a style that Santa himself would love has never been simpler.  All you must do is combine red Christmas decorations and white Christmas decorations (The big man is sure to stop at your place). This simple palette is incredibly versatile; you can go more traditional with simple accessories or go full out and create a candy cane-themed Christmas. Using a variety of textures and different-sized red and white baubles is a great way to add a bespoke twist to this Christmas theme.
Something for the ladies. Classy, sophisticated, and luxurious is how the combination of purple Christmas decorations and silver Christmas decorations looks. A non-traditional colour palette, but this mix of purple and silver baubles is a lovely way to change up your Christmas decorations this year. We suggest using florals and picks of different sizes to elevate this theme, don't forget to incorporate different textures and accessories for an even more glamorous aesthetic.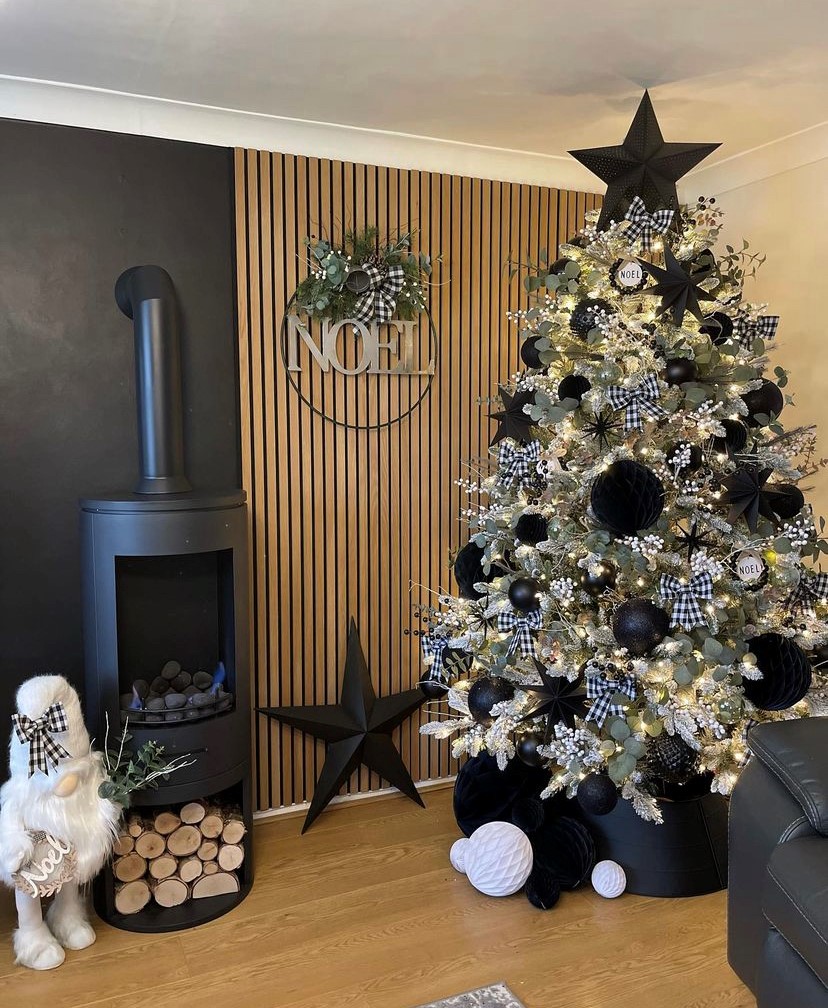 You will definitely be raising a toast to this Christmas colour combination. The mixture of black, gold and silver baubles looks fabulous. Using gold and silver Christmas decorations is quite simple and traditional but adding in the black transforms this colour palette from the ordinary to the extraordinary and adds a little bit of drama. Using different festive ornaments in contrasting sizes, shapes, and textures will also make the theme even more interesting.
Combining blue, orange and turquoise baubles creates an elegant, fun, bright, and bejewelled Christmas theme. The Cinnamon Ice theme adds a glamorous festive touch! Matching lighter turquoise decorations with glittery orange baubles and deep blue baubles creates a fresh and eye-catching look. The cinnamon ice theme is not your traditional Christmas colour palette but if you are looking to step outside the box, this one is for you.
The Chocolate Orange theme makes use of gold, brown, and orange Christmas decorations. To complement this style, use different textures and patterns of brown baubles, gold baubles, and orange baubles, which will create a luxurious Christmas style. This Christmas decorating scheme is both unique and wonderful and can be used for so many years to come.
Create a sophisticated Christmas décor by using red, gold, and purple Christmas decorations. The use of these opulent and rich creates a stunning Christmas theme. This colour palette looks stunning when used in conjunction with classic warm white lights. The 'spiced wine' theme is a classical style with a bit of a twist that will make this year's Christmas a little special.
16. 
Combining blue, silver and gold Christmas decorations is a stunning, lavish design, which is the perfect colour combination. The ever-popular gold decorations complemented and contrasted by deep blue tones and timeless silver with hints of gold champagne are charming, stylish, and sophisticated. This Christmas theme is a contemporary scheme which oozes elegance in any setting.
The Nordic Winter theme is a sophisticated theme that utilises blue, gold, white and brown Christmas decorations. You can pair these colours with festive accessories to create a magical ambience. Include Frosted white flowers and other floristry decorations with classic warm lights for some festive and unique finishing touches.
The Winter Woodland theme is a mixture of green, brown, and white baubles. It is all about adding natural and textural details. The best way to achieve the Winter Woodland theme is with some natural-looking garlands and wreaths. These types of decorations capture an essence of the outdoors; the crisp, wintry feeling from outside, and incorporate it within your home. To maximise the woodland feel, you could explore adding in animal-themed decorations, as well as choosing some natural Christmas theme decorations which are crafted out of wood so that you can double up on the natural vibes.
Make a statement with bright and bold colours. Bright yellow, green and orange Christmas decorations will inject a burst of colour into your Christmas decor. The combination of funky and fun colours is a non-traditional décor style, but it will make your Christmas décor stand out from the rest. This colour palette can be used throughout the home to spread even more cheer.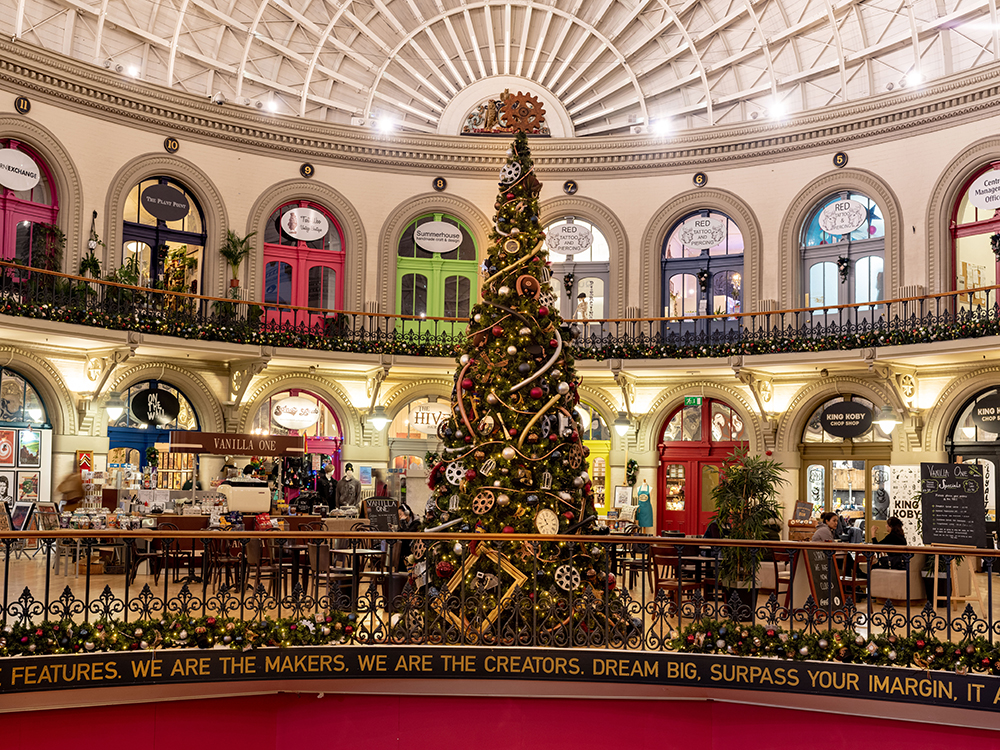 Christmas is a time for traditions — but it can also be a time to make new traditions and go your own route! If your style is a little more eclectic or you want to try something new, using non-traditional colours and accessories in your decorating such as burgundy, blue, brown, and silver baubles will put a new twist on an old classic. Rebellious and distinctively stylish, the steampunk theme sees traditional baubles complemented by a collection of steampunk-inspired decorations, including metallic baubles, top hats, pocket watches, picture frames, playing cards, gears and cogs.
Pink, White and Gold decorations are colours that spell out affluence and elegance, and the Vintage Pearl theme is nothing but charm and elegance. It is something that makes a sophisticated statement without much effort. Mix the shimmery metallic shades of gold baubles with feminine pink baubles for a calm colour palette that looks luxurious.
The double denim theme is a cosy, textile-based theme, that is sure to warm up those chilly winter nights. Mixing blue, white and red baubles could seem a little patriotic but this Christmas theme is one you will love. This unique design combines soft knits, bright gingham, and vintage pieces of denim to create a fun, yet beautiful look with a homespun feel.
Play on the wild side of life and transport yourself to a safari holiday with a Seasonal Safari themed Christmas. This Christmas theme is sure to put a smile on the face of the kids. The mixture of red, burgundy, blue, gold and patterned baubles create a fun and unique Christmas theme for everyone to enjoy.  Add some soft toys such as tigers and elephants around the base of the tree for even more fun.
24. Crystal Clear
If you are thinking of switching up your Christmas decorating theme this year, think pared-back, stylish decorations and a limited colour palette – Keep the decorating to a minimum.  An effortless way to get a gorgeous Christmas look is by adding different textures and pairing textured decorations with clear baubles. Clear baubles have been growing in popularity thanks to the introduction of minimalistic and Scandinavian styles. They are the ultimate versatile Christmas decorations, perfect for any style. Clear baubles add a touch of glamour to any Christmas, we suggest using warm white lights to create the perfect ambience; the light reflects off the clear baubles for a luxurious, shimmery effect.  You could even say it is a match made in heaven.
25. Pencil Tree
Using an artificial tree is the beauty of nature mixed with convenience. They come in endless sizes, shapes, and styles. Choosing your perfect one can take some time, so we have made it easy for you with some decorating ideas for using artificial Christmas trees. For rooms that have limited space, use a thinner or half-wall tree. These slimmer trees are a great alternative, especially in hallways, apartments, or tiny homes. They still look fantastic and will inject some festive spirit into your home.
26. Coloured Christmas Trees
Make a statement this Christmas and go for a different Christmas tree colour. You can choose from a wide range of colours including pink, white, black, or gold. You could decorate a smaller coloured tree in your children's room, which would add a bit of fun and festive spirit, plus it is guaranteed to put a smile on their faces.
27. 
If you are having some space issues, there are several ways you can still enjoy a fabulous Christmas. One of the ways of creating the illusion of a much bigger tree is by placing the tree on a sturdy table. Cover the table in a decorative tree skirt or tablecloth and create a festive feature.  Elevating the tree also leaves room for more presents under the tree.
28.
A classic for many years now, the white Christmas lights always add a little sparkle and magic to any indoor or outdoor space. The white colour is perfect for creating a wintery and snowy effect.
29.
The traditional multi-coloured lights are a fun, funky, and festive way to add some colour to Christmas. The Traditional multi-coloured lights are always a family favourite. Use them in wreaths or garlands for a fabulously festive Christmas.
Transform the outside of your home by edging the roof with icicle lights; you can use icicle lights in a range of colours to brighten up your home.